Moringa Herbal (Original) Infusion
Moringa Original infusion contains 100% organic moringa leaves. Moringa leaves are the best food for the overall health of our body as the nutritional profile of moringa leaves are completely fulfilling. Moringa infusion bags would be a convenient and refreshing beverage to boost our normal life style. We can simply drink the infusion to get the maximum benefit of the miracle tree. We too offer many flavored moringa tea with other interesting blends.
Moringa Herbal (Original) Infusion – 18 Tea bags/Box
Organic Moringa Oleifera Leaf.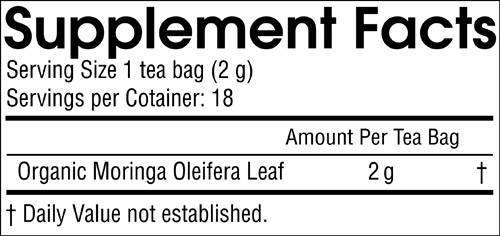 Pour boiling water over tea bag in your cup or teapot (1 bag per cup) and infuse for 5 – 7 minutes. If you prefer, sweeten with sugar or honey.
FOR 1 LITER OF ICED TEA:
Pour 1/2 liter of boiling water over 8 tea bags, cover and infuse for 20 minutes. Remove tea bags, add 1/2 liter of cold water and refrigerate. Pour over ice to serve.
---