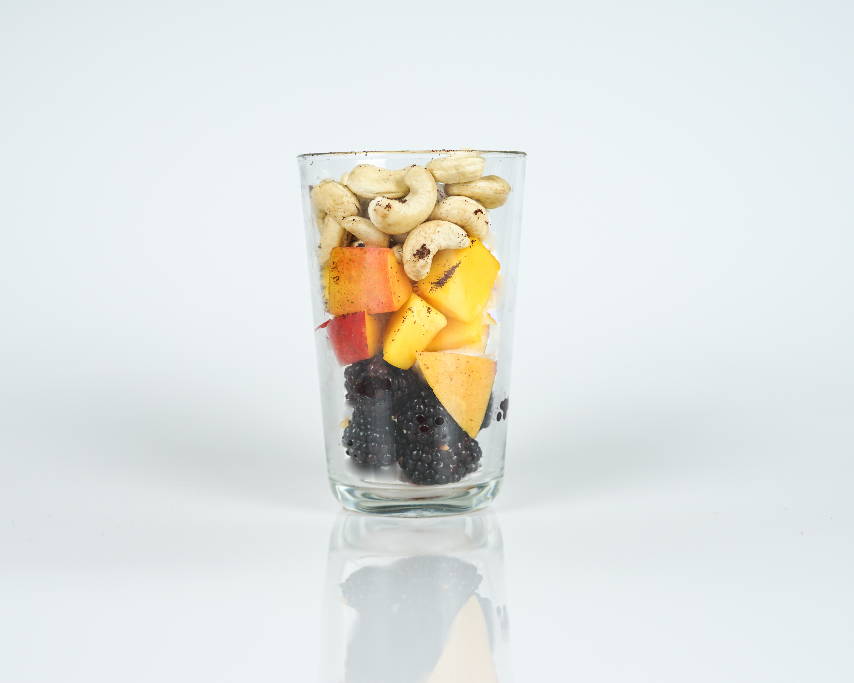 Blackberries are rich in tannin which helps with digestion and mangos have probiotic benefits while both are sweet antioxidants. Maqui berries are also rich in vitamin C and aid weight loss and exercise-induced fat burning. The healthy fatty acids in cashews help convert calories into energy and the fiber in the fruits will keep you gratified for hours.
Blackberry + Mango + Mint + Cashew + Maqui Berry Powder


Serv. Size: 151g. Amount per serving: Calories 160, Total Fat 7g (9% DV), Sat. Fat 1.3g (6% DV), Trans Fat 0g, Cholest. 0mg (0% DV), Sodium 0mg (0% DV), Total Carb. 23g (8% DV), Fiber 6g (21% DV), Total Sugar 14g, Protein 4g (8% DV), Vitamin D 0mcg (0% DV), Calcium 47.9mg (4% DV), Iron 1.8mg (10% DV), Potassium 331mg (8% DV), Vitamin A (110% DV), Vitamin C (45% DV), Vitamin B6 (8% DV), Magnesium (15% DV). Percent Daily Values (DV) are based on a 2,000 calorie diet.