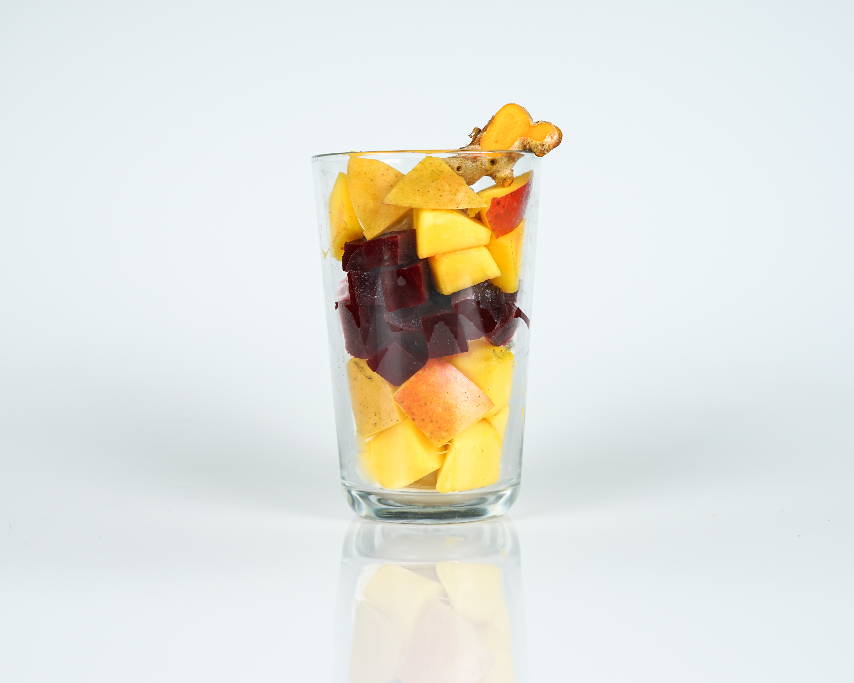 Beets contain betalains, phytonutrients that provide support for organ detoxification and anit-inflammatory responses. They are also found to lessen tumor growth. Wheatgrass is another detoxifier that is a great form of chlorophyll which acts as a natural healing agent. Combined with turmeric, this treat purifies and brightens your skin.
Mango + Beets + Tumeric + Wheatgrass Powder



Serv. Size: 126g. Amount per serving: Calories 90, Total Fat 0.5g (1% DV), Sat. Fat 0.2g (1% DV), Trans Fat 0g, Cholest. 0mg (0% DV), Sodium 35mg (2% DV), Total Carb. 19g (7% DV), Fiber 4g (14% DV), Total Sugar 14g, Protein 2g (4% DV), Vitamin D 0mcg (0% DV), Calcium 33.8mg (2% DV), Iron 2.5mg (15% DV), Potassium 426mg (10% DV), Vitamin A (260% DV), Vitamin C (40% DV), Vitamin B6 (10% DV), Magnesium (50% DV). Percent Daily Values (DV) are based on a 2,000 calorie diet.