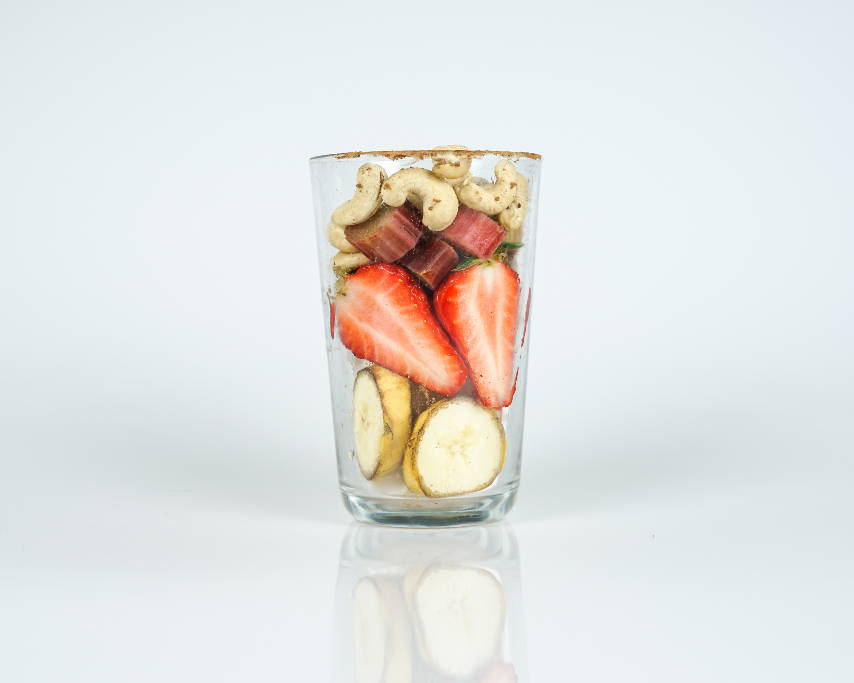 The low-calorie rhubarb is packed with dietary fiber, vitamin A, vitamin C and magnesium. Strawberries are also full of fiber and vitamin C with a healthy dose of iodine. Add some lucuma, a natural sweetener, for extra fiber; cashews for healthy fats and proteins; and a banana for potassium and vitamin A.
Banana + Strawberry + Rhubarb + Cashew + Lucuma Powder



Serv. Size: 145g. Amount per serving: Calories 170, Total Fat 7g (9% DV), Sat. Fat 1.3g (6% DV), Trans Fat 0g, Cholest. 0mg (0% DV), Sodium 0mg (0% DV), Total Carb. 25g (9% DV), Fiber 5g (18% DV), Total Sugar 10g, Protein 4g (8% DV), Vitamin D 0mcg (0% DV), Calcium 34.6mg (2% DV), Iron 1.4mg (8% DV), Potassium 460mg (10% DV), Vitamin A (6% DV), Vitamin C (45% DV), Vitamin B6 (45% DV), Magnesium (15% DV). Percent Daily Values (DV) are based on a 2,000 calorie diet.